Never Summer: Legacy
more products by Never Summer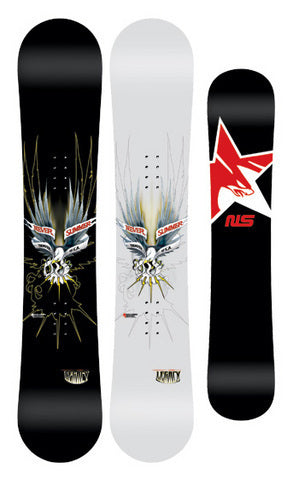 The Legacy is the solution for the wide boards that are too wide and slow edge to edge. This boards shape is wide enough to eliminate toe and heel drag, but narrow enough to be quick and responsive. The Legacy is the hybrid midwide freestyle/freeride snowboard that can handle anything on the mountain. The technology behind the structure of The Legacy creates an extremely versatile, high performance snowboard that bigger riders require. If you have ever owned a wide board that turned slow or didn't last, you'll find that The Legacy won''t disappoint you the same way. 
| | |
| --- | --- |
| Type | Mid Wide FS/FR |
| Warranty | 3 Years |
DUAL
TORSION BOX CORE
Similar in design to the RDS 1, the laminated damping layers on the RDS 2 are more extensive in the full length of the effective edge, and less extensive in the tip and tail. This combines high speed stability with reduced tip and tail swing weight.
STS
ADVANCED FIBERGLASS
The world's best snowboard fiberglass, period. This type of fiberglass is a pre-hardened, pre-tensioned, layered laminate that has added elastomer stringers between the 0 degree and 90 degree glassfiber. This produces a stronger bond between the individual glass laminates giving the boards unmatched strength edge hold, and performance.
DUAL
TORSION BOX CORE
Lightweight wood between hardwood stringers which will result in a progressive flex pattern: stiffer, but torsionally forgiving between the feet with a progressively softer flex towards the tip and tail. This core delivers maximum edge hold, board control and responsiveness.
CARBON
VXM
This System Vs are set back from the ends of the effective edge to slightly soften the nose and tail while providing power, increased torsional stiffness and edge response from foot to edge. This is the perfect system to combine high speed stability with freestyle performance.
SINTERED P-TEX
SIDEWALLS
Unlike conventional ABS sidewalls, that have a tendency to crack in colder temperatures, this type of sidewalls maintains their integrity at any temperature.
DURASURF 4501
Exclusively made by Crown Plastics (industry leader in sintered materials for over 30 years) for Never Summer, this new high density base is extremely fast and will provide unmatched performance and durability.